Team LGA News & Events
TRYOUT RESULTS WILL BE POSTED AT 7:00 P.M. ON JUNE 13TH.
MANDATORY PARENT MEETING JUNE 23, 2017
There will be a mandatory parent meeting on Friday, June 23rd, 2017, from 6:30-8:30 p.m., for all competitive parents of athletes in the 2017-2018 season.  Please mark your calendars and plan to attend!
November 24, 2014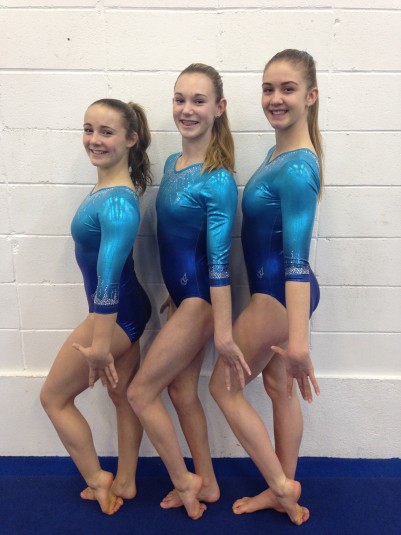 LGA had another amazing year at the Tour Selection competition in Etobicoke on November 14-16. Athletes who are thirteen and older and who place in the top eight all around in each level get the opportunity to represent Team Ontario in Las Vegas, Nevada in January 2015.
Rachel Simpson (not pictured) will be the youngest member of LGA at just thirteen years old to accompany the Level 8 Ontario Team. She placed second AA by a very small margin to secure her first Tour Selection team spot.
LGA will also have two athletes accompany the Level 9 Ontario Team. Christy Rizzo (Middle) placed third AA and Alessia Lambe (Left) placed second AA, securing a team coach position for JP Kraemer (LGA owner) to accompany his athletes to success in Las Vegas.
Sarah Goudie (Right) once again proved that she is a force to be reckoned with at the National Open Level, placing fifth AA and securing yet another spot on Team Ontario. We wish the LGA and Team Ontario gymnasts the best of luck at this international competition, and expect great results for individual LGA performances as well as team medals.
Congratulations girls!
June 3, 2014
Congratulations to Sarah Goudie on an amazing competition at National Championships in Ottawa, May 28th-31st. Sarah competed for team Ontario on Thursday, May 29th. "She injured her achilles the day before the competition
but persevered and helped her team win gold," gushed coach Jen Kraemer.
After winning team gold, Sarah made top 32 (placing 13th) to continue on to the individual competition on Friday, May 30th. Sarah added many new tricks over the course of the season and performed them flawlessly, earning a 5th all around placing.  "JP and I couldn't be more proud of the work Sarah put in and the way she handled herself at nationals; she really is a special athlete" said Jen.
We would have been honoured to place in the top 10, so Sarah placing on three events and top 5 was a dream come true. With the many college recruiters who saw the amazing gymnast and person Sarah is, we wish her all the best as she works towards a much deserved scholarship.
Our LGA family could not be more proud of our top athlete!
February 22, 2014
With Provincial Championships in April, Eastern Canadian Championships in May, and National Championships in June, LGA gymnasts are making a big push for their strongest finish ever! Coaches JP and Jen Kraemer (owners of LGA) are very proud of the progress shown by their athletes this season so far. Team LGA gymnasts have had great showings this season with all athletes currently ranked in the top 20 in their categories and divisions.
Especially important was their international event in Cancun, Mexico on January 15-20. LGA had a strong showing against a field with teams from USA, Mexico, Venezuela, and Canada. In level 7, the team of Vanessa Gunnell, Lynton Lam, and Alena Beniamin took bronze; in level 9, the team of Christy Rizzo, Alessia Lambe and Suzy Wong took bronze. And in level 10, the team of Kayla Sanidad, Lindsay Arnold, Rayna Bouttarath and Sarah Goudie also captured bronze. Way to go girls!
For the next two months, Kraemer says, the girls will up their intensity and efforts to continue to put London on the map as a power in women's gymnastics.