SUMMER CAMPS AT LGA ARE OPEN!
WE ARE SUPER EXCITED!!
(share this with a friend)
IMPORTANT NOTES FOR PARENTS RE: COVID-19 PROTOCOLS
CAMPS ARE OPEN THIS SUMMER!!

ALTHOUGH WE ARE ACCEPTING REGISTRATIONS FOR 5 AND 6 YEAR OLD CHILDREN, YOU NEED TO BE AWARE THAT SOCIAL DISTANCING PROTOCOLS WILL BE IN PLACE.  YOUR CHILD MUST BE ABLE TO FOLLOW INSTRUCTIONS/PROTOCOLS THROUGHOUT THE DAY.  IF YOU FEEL YOUR CHILD WILL HAVE DIFFICULTY WITH THESE STRICT PROTOCOLS, PLEASE DO NOT REGISTER THEM!

PLEASE CLICK HERE FOR THE MINISTRY OF HEALTH GUIDELINES THAT WE ARE FOLLOWING

ALL PARENTS MUST PRINT AND COMPLETE THE FOLLOWING TWO FORMS AND BRING THESE WITH THEIR CHILD ON THE FIRST DAY OF CAMP.  NO EXCEPTIONS.  IF YOU DO NOT HAVE THE FORM, YOU WILL BE REQUIRED TO PROVIDE IT BEFORE YOUR CHILD CAN ENTER THE BUILDING.

A SELF-ASSESSMENT WILL ALSO BE REQUIRED … DETAILS TO FOLLOW

LGA STAFF WILL BE ADHERING TO STRICT HEALTH, SAFETY AND CLEANING PROTOCOLS FOR ALL CAMPERS AND STAFF

AN EMAIL, WITH DETAILS REGARDING ALL PROCEDURES, WILL BE SENT DURING THE WEEK PRIOR TO CAMP
POLICY UPDATES
ANY REGISTRATIONS RECEIVED IN JUNE WILL SECURE YOUR SPOT, BUT FEES WILL NOT BE PROCESSED UNTIL JUNE 22ND.
FAMILIES WHO REGISTERED FOR SUMMER CAMPS PRIOR TO JUNE WILL BE REFUNDED IN FULL IF THE GOVERNMENT CANCELS DAY CAMPS

FOR ANY REFUNDS REQUESTED AND PROCESSED PRIOR TO OUR  NEEDING TO CANCEL CAMPS, THE $30 ADMIN FEE WILL APPLY

ONCE CAMPS ARE RUNNING, THE ORIGINAL REFUND POLICY APPLIES ($30 admin fee plus no refund for Gymnastics Ontario fee)
LGA IS GOING ABOVE AND BEYOND IN ITS EFFORTS TO KEEP ALL OF OUR ATHLETES AND STAFF SAFE AND HEALTHY!
As you know, mandates/protocols from the government and Gymnastics Ontario change regularly.
We will update the information posted here, as required, to keep our families as up-to-date on an ongoing basis.
SUMMER CAMP (registration button at bottom of page for new families)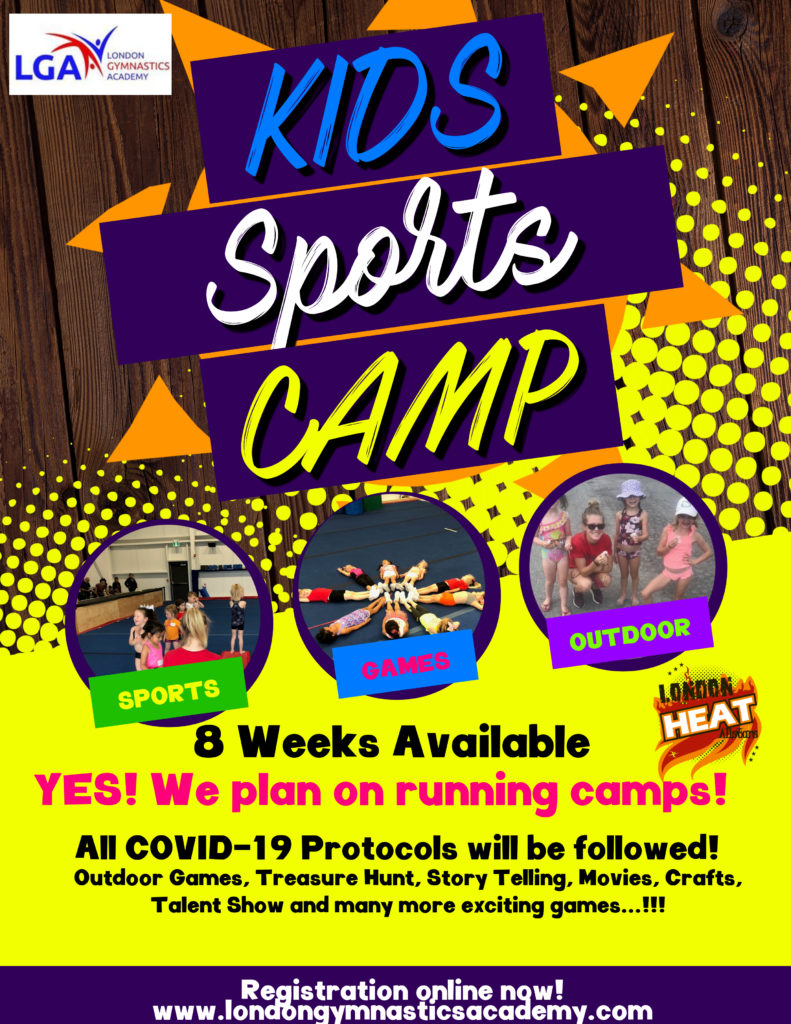 GENERAL CAMP INFORMATION
Full Week Fee – $299
Morning Drop Off at 8:30 a.m. and Afternoon Pick up MUST be at 4:00 p.m. (details to follow)
Please note that there will be staggered drop off and pick up times in order to comply with Ministry guidelines.
This will be emailed two weeks prior to camp.
Awesome indoor and outdoor activities
Pizza Day will not be offered this summer due to COVID
Experienced, highly trained, NCCP certified coaches
Sign In/Sign Out each day for the safety of the campers
WHAT TO BRING
Nut-free snacks and lunches (refrigeration unavailable)
Water (water fountains are closed at this time)
Proper attire (gymnastics leotard or shorts/T-Shirt) is required
Sunscreen for outdoor activities (we recommend spray sunscreen as coaches are not permitted to apply sunscreen to campers)
Smiles 🙂
REGISTRATION – WE ARE ONLY ACCEPTING ONLINE REGISTRATIONS AT THIS TIME
1) Current Members, please register by logging in to your Customer Portal.

2) New Members, please register by clicking the "Register" link beside the camp weeks listed below.
All athletes are required to pay a Gymnastics Ontario Fee of $40 for the G.O. calendar year of
July 1, 2020 – June 30, 2021. This is a yearly fee covering your child until June 30, 2021,
for insurance and liability purposes. GO fees are non-refundable and are applied to each athlete.
Discount – $10 first sibling, $20 second sibling, etc.  Applicable for full day/full week camp only.
All fees are subject to HST.